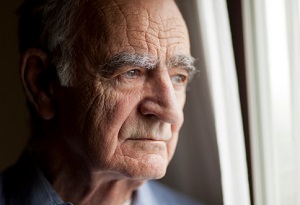 The Cleveland Clinic recently published an article that may be surprising to some: Anxiety and depression is uncommon in seniors. They report that in reality, mood and anxiety disorders tend to decrease as people age. However, if seniors do show symptoms of depression it may be more difficult for them to detect it themselves. This decreases the likelihood of them visiting a doctor to address their mental health. The CDC reports that less than 30 percent of older adults who need treatment actually seek help.
If you are a caretaker of a parent or elderly senior, try to take note of any changes in behavior. Do they appear sad or aloof? Have they lost interest in seeing their grandkids? Maybe they've stopped eating or doing crafts and hobbies they once enjoyed. "The risk of being complacent with thinking mental health changes are part of the normal aging process puts the physical health of millions of people at risk," says behavioral health expert Justin Havemann, MD. "The truth is, medical illness is closely tied to mental health problems in older adults." Havemann reports that seniors with dementia who go untreated for their depression and anxiety experience a lower quality of life with increased risk of poor medical outcome.
Here are some common warning symptoms to be aware of:
Social withdrawal and rumination
People who are depressed often do themselves a disservice by isolating from others through avoiding social situations. Also common is engaging in negative self-talk like dwelling on failures and regrets.
Stop caring for themselves
Perhaps dad has lost his appetite and now eats very little. Maybe your mom stopped getting dressed or grandpa has stopped bathing. It's important to get help when you feel your loved one has changed and shows signs of depression or anxiety. When they stop taking care of themselves, it becomes more difficult for you to provide their adult care as well.
The elderly are at a higher risk for depression after losing a loved one. Grieving is natural, but the elderly encounter loss at a much higher rate than other age groups. Caretakers and friends should keep a closer eye and offer support when there is a death in the life of their senior friend or family member.
Most older adults are not depressed, but for those that are, offering your support and encouragement is crucial to their healing and seeking help. The Cleveland Clinic recommends you take these steps:
Never ignore suicidal comments.
Call 911 if you suspect someone is in crisis.
Offer support and encouragement.
Listen carefully.
Invite someone who might be dealing with depression or anxiety out for walks.
Involve them in other activities.
Remind them that depression will lessen with time and treatment.
Offer to visit their doctor with them.
At Nevada Adult Day Healthcare Centers, we provide seniors with personalized programs to monitor their health daily by a registered nurse. Our therapeutic, social and health activities are designed to stimulate, educate, socialize and exercise our clients. We offer daily meal service, as well as transportation to and from our adult care centers. Learn more about Nevada Adult Day Healthcare Centers, visit our website or call (702) 319-4600.