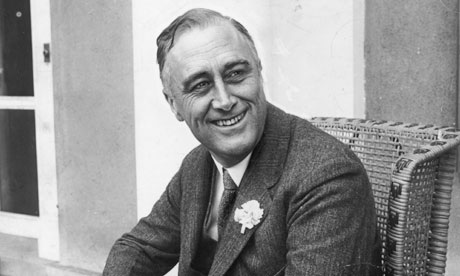 One of the greatest leaders in America's history and the only president elected to office four times, Franklin Delano Roosevelt, was a disabled man.

Born January 30, 1882, to wealthy parents, FDR grew up in a privileged household, doted on by his mother as an only child. He would go on to serve millions of unemployed, struggling Americans.

In college, he married Eleanor Roosevelt and began studying law at Columbia University. He soon was a father to five children, and living a comfortable life, but he desired more opportunity to make a difference. In 1910, he won the New York State Senate, winning as a Democrat in a district that had voted Republican the last 32 years.

In 1921, Franklin D. Roosevelt contracted polio. The disease paralyzed his legs in a devastating way. He eventually accepted his diagnosis after being unable to find a cure. Roosevelt established the March of Dimes program, which later funded a successful polio vaccine.

After all that he endured with his diagnosis, he didn't let it show just how disabled he became. He taught himself how to take a few careful steps in his leg braces and was never really photographed or filmed in his wheelchair. Following the stock market crash of 1929, Roosevelt felt ready to take on the Great Depression and help America get back on its feet.

In 1932, Roosevelt was elected president, and immediately implemented economic reform called the New Deal. 13 million Americans became unemployed (25 percent). The country was in crisis. He assured Americans: "We have nothing to fear but fear itself." With the help of a great team, they created agencies that regulated the stock market and provided relief to the unemployed.
Then World War II hit.

America entered WWII after the attack on Pearl Harbor by the Japanese. Roosevelt ran for a third term. At the time, America felt he had the experience to lead the country through war.

While Roosevelt's health rapidly declined, he still ran for a fourth term because Americans needed continuity in leadership while the war carried on. Yet, he died four months into his fourth term in 1945.

With the war winding down, America lost their leader. He led America through our greatest economic fallout and the worst war in history. A generation of children grew up knowing only him as America's leader for over 12 years.

Franklin Delano Roosevelt did not allow his disability to impede him from running for president, in fact, his greatest achievements happened after he was diagnosed with polio. He is not only a model of a great American leader but a disabled adult that achieved his greatest dreams of helping his country, no matter his personal obstacles.

If your loved one is in need of a caring facility for their disability, Nevada Adult Day Healthcare Centers provides a fun learning atmosphere for a variety of disabled and elderly adults. To learn more about our services, visit our website.